Are you enjoying your oil painting workshops?
Let us get some more of your creative ideas together and work towards developing your palette and very own personal signature.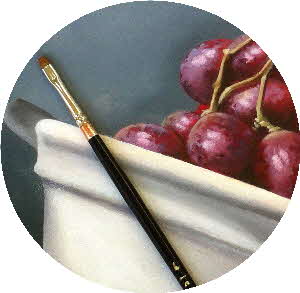 14 workshops of 3 hours each cost euro 521
All levels of artists are welcome!
Choose your own projects or join a group painting demo lessons.
The step-by-step process of how to start each oil painting.

Setting up your canvas / panel and how to improve your composition.

The step-by-step process of building up layers.

With each new painting you will learn a new set of oil painting techniques.

Our aim is to develop your ideas as well as your personal style and signature.

Try out a variety of oil painting mediums.

Experiment with different types of brushes and learn brush-care.

The Tonkinson color wheel will have you mixing the perfect color every time.

Demo lessons are available for all levels of Artists.

Develop your creative skills, hand-eye co-ordination and how to see through the eyes of an Artist.
In small cozy classes, with each artist focused on their own project, you will learn more from others and so, broaden your own horizons:
Together we will discover the artist in you.

Progressively expand your oil painting kit to suit your personal style.

Purchase only the oil painting materials that you need.

Choosing projects that bring out the best in you.

Discuss painting techniques of the New and Old Masters.