Do you have a commission and need to work from home?
Then these 4 on-line workshops of 3 hours each is the solution for you!
Costs - euro 149 per 4 Workshops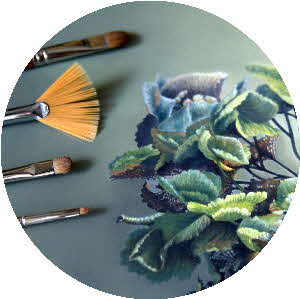 What you will learn
How to choose a canvas or panel and the right size. Composition.

The step-by-step process of how to start your oil painting.
With each new painting that follows, you will learn a new set of oil painting techniques that suit your concept as well as your personal style and signature.

You will get to use and understand the reason for oil painting mediums.

Use different types of brushes and brush care.
The Tonkinson color wheel will have you mixing the perfect color every time.

You will learn the fundamentals of art making and to see through the eyes of an Artist.
Because our Workshop is one-on-one, Artists choose their own project - you will custom support and advice in every workshop:
The fundamentals of making art.

How to progressively expand your oil painting kit to suit your personal style.

Only purchasing oil painting materials as you need them.

Choosing projects that bring out the best in you.

Information, tip and tricks from the New as well as the Old Masters.